LAND TRUST OF NAPA COUNTY
FOOTE BOTANICAL PRESERVE
April 19, 2018
Home
Hike Description:
We had finally gotten permission to visit the Foot Preserve at the base of Mt. George. What made this particularly interesting was that we were visiting an area completely burned by the Atlas Peak fire of October 2017, about 5 months ago, that unfortunately also took homes in the area. On heading down the trail towards the preserve, we found ourselves in a surreal landscape of low verdant green mosses and grasses among scattered charred trunks. One of our quests was for the very rare Fire Poppy, not seen here for 53 years.


See our Park page for more information.

Blooming Plants Not Photographed:
NN=Non Native
Achillea millefolium (Yarrow)
Achyrachaena mollis (Blow Wives)
Agoseris heterophylla (Mt. Dandelion)
Allium amplectans (Narrow Leaf Onion)
Anagallis arvensis (Scarlet Pimpernel)NN
Bellis perennis (English Daisy)NN
Briza minor (Little Rattlesnake Grass)NN
Calandrinia ciliata (Red Maids)
Calystegia occidentalis (Western Morning Glory)
Carduus pycnocephalus (Italian Thistle)NN
Castilleja attenuata (Valley Tassels)
Cerastium glomeratum (Mouse Eared Chickweed)NN
Chlorogalum pomeridianum (Soap Plant)
Claytonia parviflora (Minerís Lettuce)
Cynoglossum grande (Houndís Tongue)
Delphinium nudicaule (Red Larkspur)
Dichelostemma capitatum (Blue Dicks)
Erodium botrys (Long Beaked Filaree)NN
Erodium cicutarium (Red Stemmed Filaree)NN
Eschscholzia californica (Ca. Poppy)
Geranium dissectum (Cut Leaf Geranium) NN
Geranium purpureum (Little Robin) NN
Helianthella californica (Ca. Helianthella)
Hypochaeris glabra (Smooth Catís Ear)NN
Hypochaeris radicata (Hairy Catsí Ears)NN
Lasthenia californica (Ca. Goldfields)
Lithophragma affine (Woodland Star)
Lupinus bicolor (Miniature Lupine)
Melilotus indicus (Yellow Sweet Clover)NN
Mimulus guttatus (Seep Monkey Flower)
Nasturtium officinale (Watercress)
Nemophila heterophylla (Canyon Nemophila)
Oxalis pes-caprae (Bermuda Buttercup)NN
Plantago lanceolata (English Plantain)NN
Primula hendersonii (Shooting Star)
Rumex acetosella (Sheep Sorrell)NN
Scutellaria tuberosa (Dannyís Skullcap)
Senecio sylvaticus (Woodland Groundsel)NN
Sherardia arvensis (Sherardia)NN
Silene gallica (Windmill Pink)NN
Sisyrinchium bellum (Blue Eyed Grass)
Stachys rigida (Hedge Nettle)
Sonchus oleraceus (Smooth Sow Thistle)NN
Taraxia ovata (Sun Cups)
Toxicoscordion micranthum (Small Flowered Star Lily)
Trifolium dubium (Little Hop Clover)NN
Trifolium hirtum (Rose Clover)NN
Uropappus lindleyi (Silver Puffs)
Vicia bengalensis (Purple Vetch)NN
Vicia sativa (Spring Vetch)NN
Vinca major (Vinca)NN
Wyethia angustifolia (Narrow Leaf Muleís Ears)

Ferns Not Photographed:
Dryopteris arguta (Wood Fern)
Pellaea mucronata (Birdís Foot Fern)
Polypodium calirhiza (Nested Polypody)
Pteridium aquilinum var. pubescens (Bracken Fern)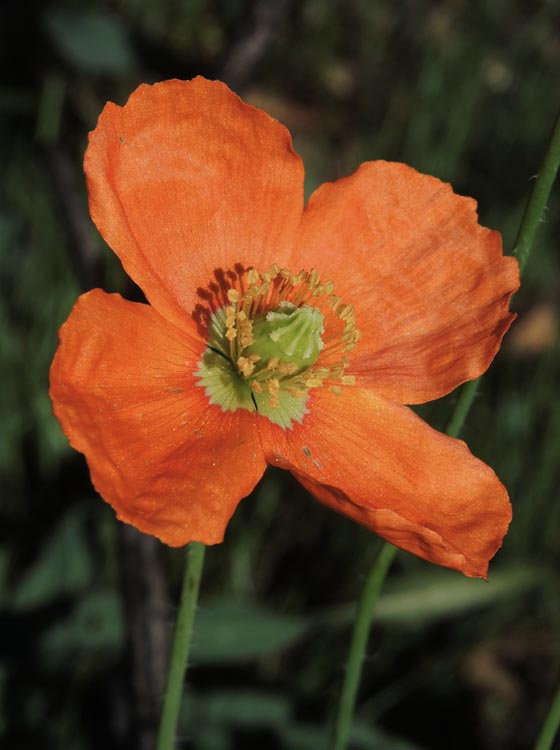 Fire Poppy (Papaver californicum): This rare native had not been seen for 53 years!


(Scroll down for more pictures)
Click pictures to enlarge
Rattlesnake Grass (Briza maxima)
Taking the old wagon trail to the preserve. Note the volcanic retaining walls.
A very common weed grass but, oh my,
how spectacular it looked in masses.
| | | |
| --- | --- | --- |
| | | |
| | | |
| Blue Pimpernel (Anagallis arvensis) Itís not a native and you usually only see the orange variety. There was a big patch of it on the reserve. | | These plants have all sprung up within the last few months. |
The native Blue Toad Flax (Nuttallanthus texanus) appears the first year after a fire.
We never tire of this finding the showy native bulb,
the Globe Lily (Calochortus amabilis).
| | | |
| --- | --- | --- |
| | | |
| | | |
| The original charcoal kiln which was supplied by horse drawn wagons. | | Star Lily (Toxicoscordion fremontii): Some people call this poisonous native the ďFremontís Death CamasĒ because of itís toxicity. It came up in profusion after the fire. |
| | | |
| --- | --- | --- |
| | | |
| | | |
| We had to watch our footing as parts of the site were still boggy. | | Even though the Nodding Madia (Harmonia nutans) is relatively common at the preserve, this native is classified as 4.3 (limited distribution) by the CNPS. |
| | | |
| --- | --- | --- |
| | | |
| | | |
| Much of the preserve is dominated by a volcanic landscape. | | Brewerís Red Maids (Calandrinia breweri): A native that hasnít been recorded as seen in this reserve since 1920. |
| | | |
| --- | --- | --- |
| | | |
| | | |
| Heading back. | | |